La Cala Resort is closing one of its best years both in the affluence of travellers and in the number of tournaments played. The complex is a benchmark in wellbeing and sports practice among users who seek quality and a high-level complementary offering. This fantastic complex designed to meet the needs of a demanding client opens its doors to us revealing the most significant and interesting statistics of its day-to-day operation.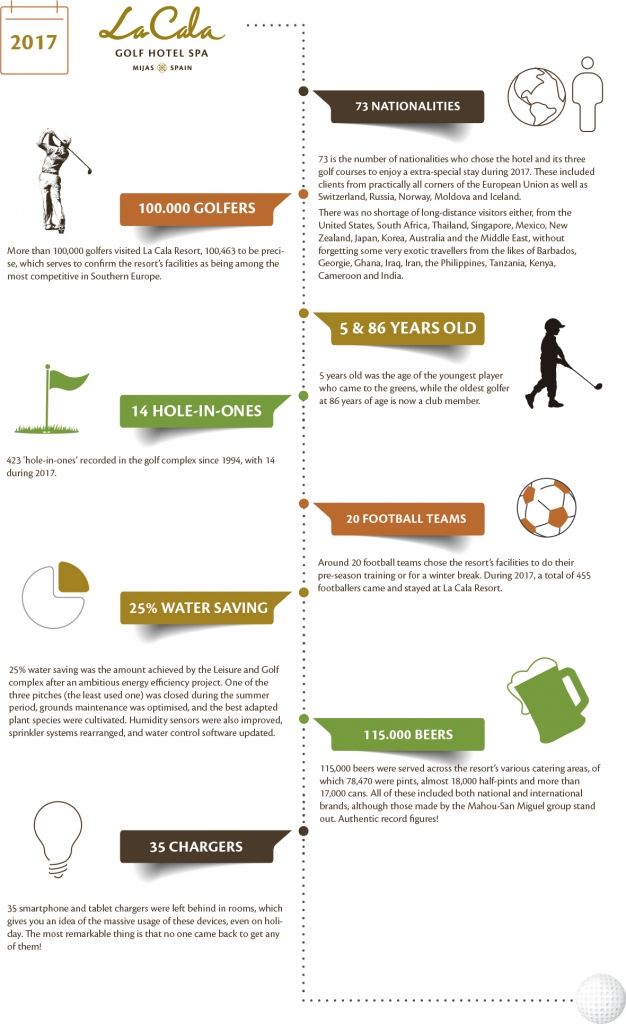 73 is the number of nationalities who chose the hotel and its three golf courses to enjoy a extra-special stay during 2017. These included clients from practically all corners of the European Union as well as Switzerland, Russia, Norway, Moldova and Iceland. There was no shortage of long-distance visitors either, from the United States, South Africa, Thailand, Singapore, Mexico, New Zealand, Japan, Korea, Australia and the Middle East, without forgetting some very exotic travellers from the likes of Barbados, Georgie, Ghana, Iraq, Iran, the Philippines, Tanzania, Kenya, Cameroon and India.
More than 100,000 golfers visited La Cala Resort, 100,463 to be precise, which serves to confirm the resort's facilities as being among the most competitive in Southern Europe.
423 'hole-in-ones' recorded in the golf complex since 1994, with 14 during 2017.
5 years old was the age of the youngest player who came to the greens, while the oldest golfer at 86 years of age is now a club member.
Around 20 football teams chose the resort's facilities to do their pre-season training or for a winter break. During 2017, a total of 455 footballers came and stayed at La Cala Resort.
25% water saving was the amount achieved by the Leisure and Golf complex after an ambitious energy efficiency project. One of the three pitches (the least used one) was closed during the summer period, grounds maintenance was optimised, and the best adapted plant species were cultivated. Humidity sensors were also improved, sprinkler systems rearranged, and water control software updated.
115,000 beers were served across the resort's various catering areas, of which 78,470 were pints, almost 18,000 half-pints and more than 17,000 cans. All of these included both national and international brands, although those made by the Mahou-San Miguel group stand out. Authentic record figures!
35 smartphone and tablet chargers were left behind in rooms, which gives you an idea of the massive usage of these devices, even on holiday. The most remarkable thing is that no one came back to get any of them!