The manufacturer of automotive BMW Motorrad has chosen the facilities of La Cala Resort for the global unveiling of two new models of enduro motorbikes that will soon go on the market. The German brand has relied on the prestige and quality of the well-known Mijeño complex to exhibit to the world's the features and equipment of the new versions of the BMW F750 GS and the BMW F850 GS.
La Cala Resort once again becomes the focus of international media. A large number of journalists from all over the world specialized in the motor industry have come to the call of BMW. The Bavarian brand presented in Mijas (Málaga) its new enduro motorcycle models: F750 GS and F850 GS, two novelties that seek to surprise adventure lovers. The leisure and sports complex has hosted five press delegations from a total of 29 countries during February and March. They included professionals from all over Europe (including Russia), Japan, New Zealand, Canada, Mexico, Argentina, Israel and China. This choice confirms La Cala Resort as an exclusive destination for companies seeking the highest quality and professional service of a high-level.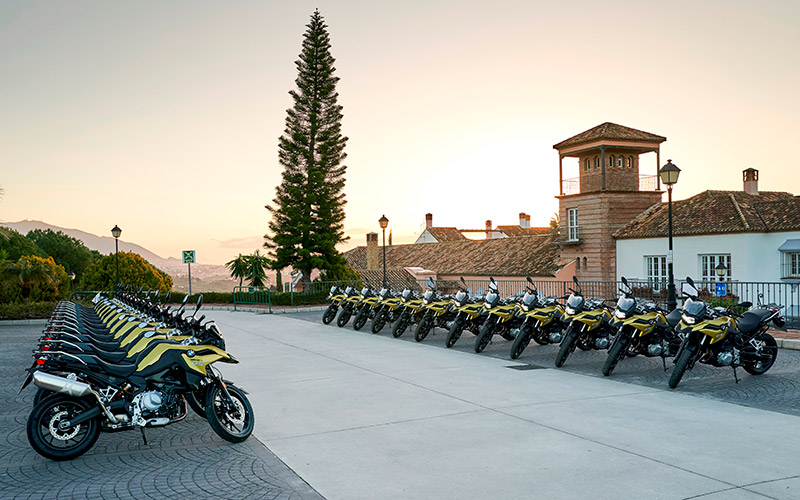 The German brand has recently worked to launch more dynamic, powerful, and daring enduro bikes. The new models are designed to travel on any terrain, although they are equally versatile for off-road driving. Both the 750 and the 850 GS are intended for riders who love long journeys through rugged landscapes, but who want greater comfort. In other words, power, high efficiency and amazing features.
As such, La Cala Resort reinforces its role as an excellent destination for large events and themed presentations. It's not the first time that La Cala Resort has hosted major car brands launching their new models, including Alfa Romeo, Mitsubishi, Infiniti and Audi, among others.
La Cala Resort will attend IMEX in Frankfurt from May 15 to 17 as a marketing activity to strengthen its presence in the German market. The Head of Golf Accounts & MICE, Silvia Ortega, will be delighted to assist you at Stand E300, you can contact her on +34 617 391 829.