With a menu based on extra virgin olive oil (EVOO), Daniel García Peinado, La Cala Resort's chef, rises to the bronze medal in the European final of the Global Chefs Challenge, that took place from the 16th to the 18th in the Italian city of Rimini.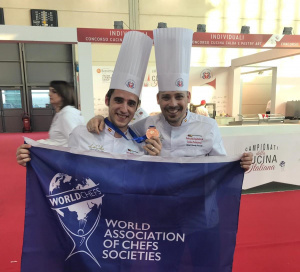 We did it! With these words full of enthusiasm, Daniel expressed his success to his colleagues at La Cala Resort after competing with about thirty of the best European gastronomy professionals. This is the first bronze medal in cooking that Spain has earned in a test of this level. 'EVOO chef' Daniel García Peinado achieved this accomplishment along with his second-in-command at the Costa del Sol resort, Jesús Arjona Núñez, member of the junior team of the Selección Española de Cocina (Spanish cooking team). 'The menu was based on extra virgin olive oil and we had to use fish, meat and chocolate,' Daniel tells us from Italy. For the contest, he created glazed sea bass in extra virgin olive oil with scallop tartare, broccoli, apple and cucumber for the contest. For the meat plate, he chose roasted veal with liver fritters, glazed onions, mushrooms and red wine. Finally, for dessert, he presented white chocolate mousse with extra virgin olive oil jam, avocado, mango and lime.
Daniel García Peinado is captain of the Spanish cooking team (La Roja) and executive chef for the Spanish football team. He entered into this gastronomic competition with the support of the sponsorship of La Cala Resort and of the Professional Spanish Cooking Team.
Garcia Peinado has printed his own stamp at La Cala Resort and has updated all of his culinary endeavours. Since his arrival, he has promoted seasonal and local products and has broadened the use of extra virgin olive oil (EVOO).
The Global Chefs Challenge Europe, organised by the World Association of Chefs' Societies unites all cooking professionals from the continent to evaluate the level of their abilities from a technical aspect. This year the event took place in Rimini, Italy and coincided with the 2019 Italian Cooking championship.
The dishes presented in the contest: